Hanorin Komunidade
>
Financial Education Program
>
Saving Account " Ha'u - nia Futuru
On 28 August, 2015, the Banco Central de Timor-Leste (BCTL) launched the Children's Savings Accounts "Ha'u-nia Futuru" with specific logo for this children saving product as following: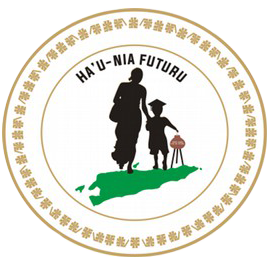 Cycle with gold colors: symbolized wealth of Timor-Leste that is strong to develop the family economy. The same design for the TL centavos coins.
Mother: as guidance or teacher for her children on how to save for their future.
Children: as example for his/her other colleagues show that save is better for future.
Cap: even he/she still kids but he has a highest dream, everyone free to access to education, but the importance thing to achieve his/her dream is saving.
Money box: representing our culture, symbolize bank to teach children that saving from now is part of our culture.
Timor-Leste's green map: his/her knowledge to be offered to serve this nation. Green color shows that his/her knowledge to be continue from generation to generation. White word "Hau Nia Futuru": as human being is not perfected. Dreaming and effort shall be accompanied by praying to achieve goals in the future.
The objective of the "Ha'u-Nia Futuru" programme is to encourage children to discover the benefits of saving money by having an account at a bank and watching their deposit grow as further contributions and interest increase the balance.
The target for the programme is all Timorese children from birth up to 17 years old. All benefits will accrue to the accountholder because no fees or charges will be applicable to these accounts and the accounts will earn interest at an above-market rate. No withdrawals or payments from an account can be made until the holder's 17th birthday.
All the commercial banks apply the same terms and condition for this saving account. For details information, please approach each commercial bank in Timor-Leste.